Sale details
Description
On behalf of a retained client
PRIVATE TREATY SALE
DOOSAN 700LM CNC Slant Bed Lathe with Fanuc 32i-Model A Control. Maximim turning dia. 900mm. Maximum turning legth 3200mm. X axis 470mm. Z axis 3235mm. C Axis. X/Z Rapids 12m/10m per min.12 station turret all with driven tool capability. Tailstock. Spindle bore 166.5mm. 600mm dia. Hydraulic 3 jaw chuck. Spindle nose A1-15. Spindle power 45 kW. Spindle speeds to 1500rpm. Milling speeds 3000 rpm. Milling power 11kW. Swarf conveyor. Machine complete with 2 x manual steadies up to 700mm dia. Qty of Preci-Max Live Toolholders. Boring Bar 80mm dia. x 120mm long. Year of Manufacture 2011 (Installed 2012)
Machine dimensions L x W x H 7360mm x 2766mm x 2590mm. Approximate weight 21,800 kgs.
Collection Details
Although the factory has overhead craneage please note the successful buyer or their designated contractors are responsible for the complete removal of the machine from the factory. Method Statements and Risk Assessments must be forwarded to the auctioneers for checking along with a valid certificate of insurance prior to work commencing. The machine must be removed within 14 days from the invoice date.
Viewing Details
Viewing is available under power in the UK. Please contact the machinebidder offices to book an appointment on 0161 345 3000. All visitors to the site must wear Personal Protection Equipment (PPE) and Face Masks. Please note due to the Covid 19 pandemic hand sanatizing facilities will be available as you enter and leave the premises and an onsite 2 metre distancing must be adhered to whilst on the premises. No minors will be allowed on the site.
Notice To Purchasers
If you are purchasing the equipment with the intention of exporting from the UK you must comply with all the necessary UK export conditions associated with this type of equipment. In certain instances Export Licences will be required and it is the buyer's responsibility to make the necessary enquiries prior to bidding. Please note under no circumstances must the goods be used to support equipment for the armed or internal security forces of Countries subject to UN, EU or OSCE arms embargo.
Lots 1-1 of 1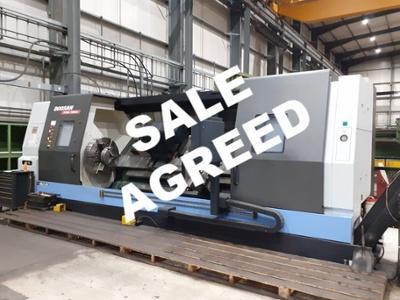 Maximim turning dia. 900mm. Maximum turning length 3200mm. X axis 470mm. Z axis 3235mm. C Axis. X/Z Rapids 12m/10m per min.12 station turret all with driven tool capability. Tailstock. Spindle bore 166.5mm. 600mm dia. Hydraulic 3 jaw chuck. Spindle nose A1-15. Spindle power 45 kW. Spindle speeds to 1500rpm. Milling speeds 3000 rpm. Milling power 11kW. Swarf conveyor. Machine complete with 2 x manual steadies up to 700mm dia. Qty of Preci-Max Live Toolholders. Boring Bar 80mm dia. x 120mm long. Fanuc 32i Control. Year of Manufacture 2011 (Installed 2012)
Machine dimensions L x W x H 7360mm x 2766mm x 2590mm. Approximate weight 21,800 kgs.
SALE AGREED