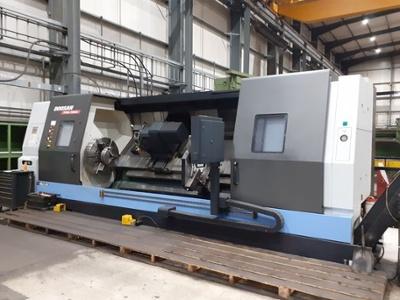 Maximim turning dia. 900mm. Maximum turning length 3200mm. X axis 470mm. Z axis 3235mm. C Axis. X/Z Rapids 12m/10m per min.12 station turret all with driven tool capability. Tailstock. Spindle bore 166.5mm. 600mm dia. Hydraulic 3 jaw chuck. Spindle nose A1-15. Spindle power 45 kW. Spindle speeds to 1500rpm. Milling speeds 3000 rpm. Milling power 11kW. Swarf conveyor. Machine complete with 2 x manual steadies up to 700mm dia. Qty of Preci-Max Live Toolholders. Boring Bar 80mm dia. x 120mm long. Fanuc 32i Control. Year of Manufacture 2011 (Installed 2012)
Machine dimensions L x W x H 7360mm x 2766mm x 2590mm. Approximate weight 21,800 kgs.
Guide Price £145,000 + 15% Buyers Premium
OFFERS ARE INVITED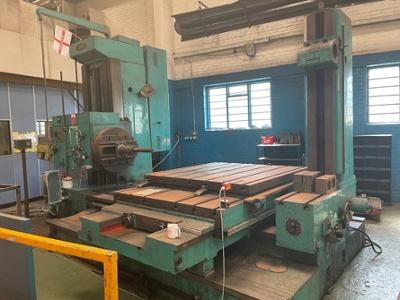 Main Table Size 96" x 60". Top Table Size 60" x 60". Spindle dia. 5". Spindle taper 7 Morse Taper. Spindle travel 36". Vertical Travel of Head 75". Longitudinal Travel of Table 84". Cross Travel of Table 84". Height of Spindle above Main Table (Min/Max) 5.1/2"/80.1/2". Spindle speeds 125 - 500 rpm. Facing Head & Spindle Combined 7 - 160 rpm. Rapid Traverses - Spindle Frame Vertical & Tables Long & Cross 35"/minute. Traversing Spindle & Facing Slide (Radial) 20"/minute. Maximum facing Capacity 54". Maximim Distance from Facing Slide to Outer Boring Steady 153". Total Weight of Machine 37 Tons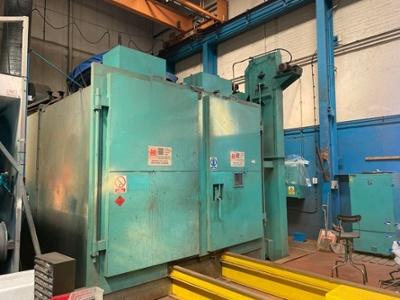 Compressed Air Blastroom 15' long x 10' wide x 8' High. Complete with Double Doors. Abrasive Recovery System. Dust Arrester.Electrical Control Panel & Ancillary Equipment.
See attached Manufacturers Technical Details (PDF)