Auction details
Description
Due to the acquisition of U.S. Marine and Industrial Pump Repair
ONLINE AUCTION SALE OF THE FOLLOWING SURPLUS EQUIPMENT
RICHARDS WB50 Table Type Horizontal Boring Mill
SHOTBLAST ENGINEERING SERVICES Compressed Air Blastroom 15' long x 10' wide x 8' high.
Both machines lying in PUDSEY, LEEDS
Collection Details
Although the factory has overhead craneage please note the successful buyer or their designated contractors are responsible for the complete removal of the machines from the factory. Method Statements and Risk Assessments must be forwarded to the auctioneers for checking along with a valid certificate of insurance prior to work commencing. The machine must be removed within 14 days from the invoice date.
Viewing Details
Viewing is between 10am - 3.30pm on Monday 18th October, 2021. Machines are situated at : Grangefield Industrial Estate, Site 20, Richardshaw Lane, Pudsey LS28 6QW.
All visitors to the site without exception will need to wear appropriate Personal Protective Equipment (PPE) and Face Masks. No Minors will be allowed on site. Please note due to the Covid 19 pandemic hand sanitising faciltiies will be available as you enter and leave the premises and onsite machinebidder staff will maintain a minimum of 2 metres distance from visiting parties. Thank you.
Notice To Purchasers
If you are purchasing the equipment with the intention of exporting from the UK you must comply with all the necessary UK export conditions associated with this type of equipment. In certain instances Export Licenses will be required and it is the buyers responsibility to make the necessary enquiries prior to bidding.
Please note under any circumstances must the goods be used to support equipment for the armed or internal security forces of Countries subject to UN, EU or OSCE arms embargo.
Lots 1-2 of 2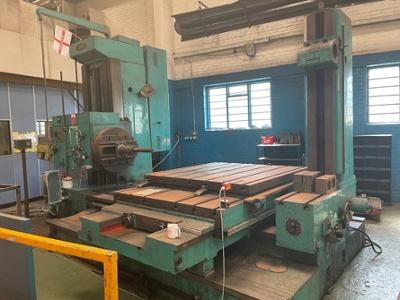 Main Table Size 96" x 60". Top Table Size 60" x 60". Spindle dia. 5". Spindle taper 7 Morse Taper. Spindle travel 36". Vertical Travel of Head 75". Longitudinal Travel of Table 84". Cross Travel of Table 84". Height of Spindle above Main Table (Min/Max) 5.1/2"/80.1/2". Spindle speeds 125 - 500 rpm. Facing Head & Spindle Combined 7 - 160 rpm. Rapid Traverses - Spindle Frame Vertical & Tables Long & Cross 35"/minute. Traversing Spindle & Facing Slide (Radial) 20"/minute. Maximum facing Capacity 54". Maximim Distance from Facing Slide to Outer Boring Steady 153". Total Weight of Machine 37 Tons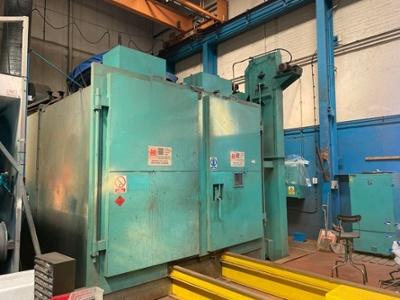 Compressed Air Blastroom 15' long x 10' wide x 8' High. Complete with Double Doors. Abrasive Recovery System. Dust Arrester.Electrical Control Panel & Ancillary Equipment.
See attached Manufacturers Technical Details (PDF)