Sale details
Description
By Order of a UK Finance Company
PRIVATE TREATY SALE OF CNC & CONVENTIONAL MACHINE TOOLS
Ex Site, Lancashire, UK - Immediately Available
CNC EQUIPMENT
Doosan DBC 130L Horizontal Borer. Fanuc 31i- Model A Control. Year 2009
Toshiba BTD 13FR22 Horizontal Borer. Tosnuc 888 Control. Year 1998
Asquith Butler 8M Elgamill. Heidenhain TNC426 Control. Year 1999
Doosan Puma 400 XLM CNC Lathe. Fanuc 21i-TB Control. Year 2009
Mazak VTC800/30SR 5 Axis Vertical Machining Centre. Mazatrol Matrix Control. Year 2011
Mazak Integrex 400-IV 5 Axis CNC Lathe. Mazatrol Matrix CNC Control. Year 2011
Mazak Integrex 70Y x 4000 CNC Lathe. Mazatrol PC Fusion 640MT Control. Year 2000
Mazak MTV815/120 Vertical Machining Centre. Mazatrol PC Fusion 640MT Control. Year 2000
Mazak VTC 20C Vertical Machining Centre. Mazatrol M Plus Control. Year 1998
Mazak VTC 20C Vertical Machining Centre. Mazatrol M Plus Control. Year 1998
CONVENTIONAL
Webster & Bennett 96" Double Column Vertical Borer. Year 1968
Churchill Cylindrical Grinder 750mm x 3000mm Heavy Duty Cylindrical Grinder
Collection Details
Buyers are responsible for the cost of dismantling & removal from site.
Viewing Details
On site viewing in Preston in Lancashire is strictly by appointment directly with our offices on 0161 345 3000. All visitors to the site without exception will need to wear appropriate Personal Protective Equipment (PPE). No minors will be allowed on the site.
Notice To Purchasers
If you are purchasing the equipment with the intention of exporting from the UK you must comply with all the necessary UK export conditions associated with this type of equipment. In certain instances Export Licences will be required and it is the buyer's responsibility to make the necessary enquiries prior to bidding.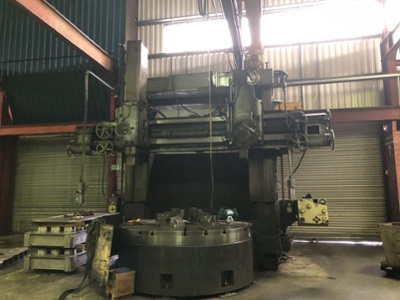 Table dia. 2438mm. Maximum swing 2900mm. Height under cross rail 1430mm. 1 x Ram Type Toolpost and 1 x Turret Type. Chuck Jaws. Serial No.5765-1. Year 1968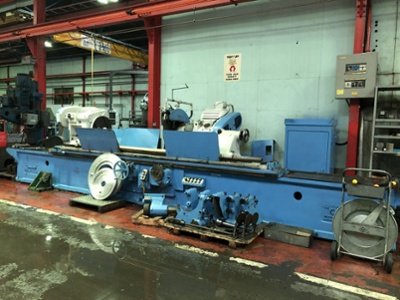 Swing over bed 750mm. Distance between centres 3000mm.Grinding wheel speeds 500 - 750rpm. Work head speeds 10 – 90 rpm. Table traverse speeds 75 - 650mm/min . Wheel head motor 20hp variable speed. Work head motor 7.5hp. Max. weight carried between centres ...