Auction details
| | |
| --- | --- |
| Sales Starts | 24 Jan 2023 @ 09:00 |
| Sales Ends | 23 Feb 2023 @ 13:00 |
| No. of Lots | 2 |
| Auction Catalogue | |
Description
On instructions received
ONLINE AUCTION SALE - EX SITE, SCOTLAND, UK
SWIFT Heavy Duty Swing 72" x 36ft Between Centres Twin Saddle Centre Lathe with Boring Attachment
CHURCHILL MODEL TWA Roll Grinder. Swing over bed 40" x 240" Between Centres.
Subject to 15% Buyers Premium
Collection Details
Please note that the successful buyer or their designated contractors are responsible for the complete removal of the machines from the site. Method Statements and Risk Assessments must be forwarded to the auctioneers for checking along with a valid certificate of insurance prior to work commencing. The client is vacating the premises so the machines must be removed from site within 14 days after the invoice is issued.
Viewing Details
Viewing is available in Scotland, UK. Please contact the machinebidder offices to book an appointment on 0161 345 3000. All visitors to the site must wear Personal Protection Equipment (PPE). No minors will be allowed on the site.
Notice To Purchasers
If you are purchasing the equipment with the intention of exporting from the UK you must comply with all the necessary UK export conditions associated with this type of equipment. In certain instances Export Licences will be required and it is the buyer's responsibility to make the necessary enquiries prior to purchasing. Please note under no circumstances must the goods be used to support equipment for the armed or internal security forces of Countries subject to UN, EU or OSCE arms embargo.
Lots 1-2 of 2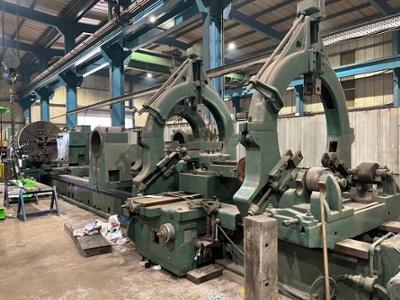 SWIFT HEAVY DUTY LATHE. Swing 72" x 36ft Between Centres. Twin Saddle SS & SC Centre Lathe. Fitted with 72" dia. Faceplate with Heavy Duty Chuck Jaws. Width of Bed 48". Spindle speeds 0.6-60 rpm. Twin Saddles. Powered Compound Slides (swivelling) on ...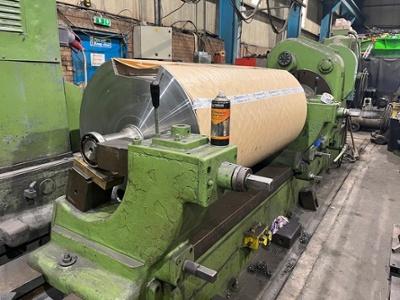 CHURCHILL Model TWA Roll Grinding Machine. Swing over bed 40". Distance between centres 240". Maximum dia. ground with New Grinding Wheel 32". Minimum dia. ground with New Grinding Wheel 2". New Grinding Wheel Size 26" x 2" x 12" bore. Workhead speeds ...