ONLINE AUCTION SALE - STAR SB16 CNC Sliding Head Lathe with Fanuc 18i-TB Control. FMB Turbo 2-12 Barfeed. Year 2003 (170692)
Auction details
Description
On behalf of a client due to re-investment
STAR SB16 CNC Sliding Head Lathe with Fanuc 18i-TB Control. FMB Turbo 2-12 Barfeed. Year 2003
The machine has done very little work and is in extemely good condition.
Location: South Wales, UK
Collection Details
Please note there are no lifting facilities on site and the successful buyer or their designated contractors are responsible for the complete removal from the factory in South Wales. Method Statements and Risk Assessments must be forwarded to the auctioneers for checking along with a valid certificate of insurance prior to work commencing. The machine must be removed from site by Friday 8th October, 2021
Viewing Details
Viewing is available under power in South Wales.
Please contact the machinebidder offices to book an appointment on 0161 345 3000.
Notice To Purchasers
If you are purchasing the equipment with the intention of exporting from the UK you must comply with all the necessary UK export conditions associated with this type of equipment. In certain instances Export Licences will be required and it is the buyer's responsibility to make the necessary enquiries prior to bidding. Please note under no circumstances must the goods be used to support equipment for the armed or internal security forces of Countries subject to UN, EU or OSCE arms embargo.
Lots 1-1 of 1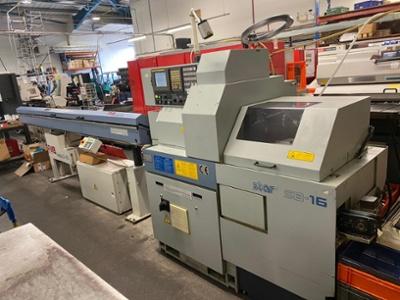 Bar capacity 16mm. Main spindle indexing 15 degrees. Main spindle Speed 500-10,000 rpm.Tool holders with 3 live tool positions. Back spindle speed 300-6,000 rpm.Parts catcher and conveyor. Broken tool detection. Counterface Drill Sleeve. Counterface Drilling/Tapping Sleeve.Multiple Repetitive Canned Cycle. Automatic Chamfering Corner Radius.Tool Nose Radius Compensation.Canned Cycle for Drilling.Rigid Tapping. FMB Turbo 2-12 Barfeed. 40 off collets. 8 guide bushes.18 grippers for the bar feed. Set of Manuals.
Machine type 480. Serial No.0382 (Lot) 018). Year of manufacture 2003. Machine weight 1600kgs.