Auction details
Description
On instructions received from a UK Client
LOT 1
I.T.S. Controlled Boring system. The client purchased this equipment to use on their DOOSAN DB130 Horizontal Borer. It is now surplus to requirements it has had very little use since new.
LOT 2
Quantity of KENNAMETAL Quick Change Boring, Milling & Turning Tools
Collection Details
The items can be boxed up and loaded onto suitable transport free of charge.Lots must be collected by Friday 12th March, 2021
Viewing Details
On site viewing at the Clients premises in the North East of England strictly by appointment with the auctioneers.
Please contact the machinebidder offices on 0161 345 3000 to arrange an appointment. All visitors to the site without exception will need to wear appropriate Personal Protective Equipment (PPE). No minors will be allowed on the site.
COVID 19 : Please note due to the Covid 19 pandemic face masks must also be worn.
Notice To Purchasers
If you are purchasing the equipment with the intention of exporting from the UK you must comply with all the necessary UK export conditions associated with this type of equipment. In certain instances Export Licences will be required and it is the buyer's responsibility to make the necessary enquiries prior to negotiation.
Please note under no circumstances must the goods be used to support equipment for the armed or internal security forces of Countries subject to UN, EU or OSCE arms embargo.
Lots 1-2 of 2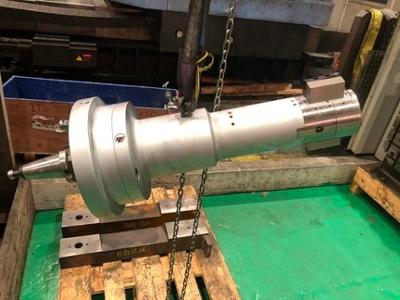 50 ISO Spindle Taper. Maximum 750 rpm. Serial No. N18-1873-T50
Applications
Valve Seat pocket geometries
Fracking Valve Internal Profiles and Tapers
Outlet Angles / Profiles in both Single Cavity and Composite Block Valves
Tubing Hangers with Internal ...